I had a fabulous evening yesterday, sitting around the fireplace at Casa de las Flores.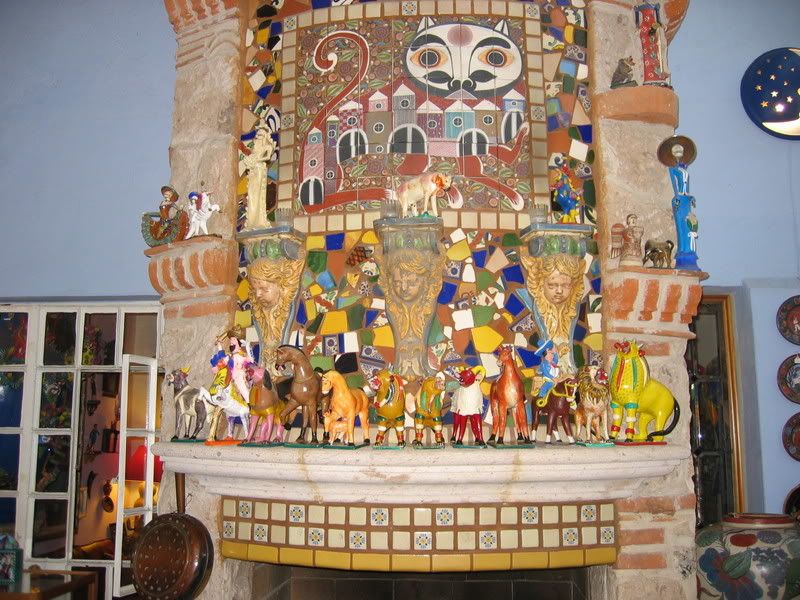 Not only did I have a great time chatting with Sally and Glenn, but I also met some lovely new people: Brooke from Reno, Patty from the Bay Area, and Irene and Janice from northern California. We had great fun talking about our past travels, particularly because we had been to a number of the same places, including Guatemala! (Sweetie, I´ve gotten a few recommendations for our next trip there!)
Unfortunately, Brooke and Patty had to leave this morning. But Sally, Glenn, Irene, Janice, and I banded together to take a shortened tour of the artists´studios and then a trip to nearby Tequila - yes, the home of the famous beverage.
We started off by visiting the home/studio of the chicken folks, the Ortegas: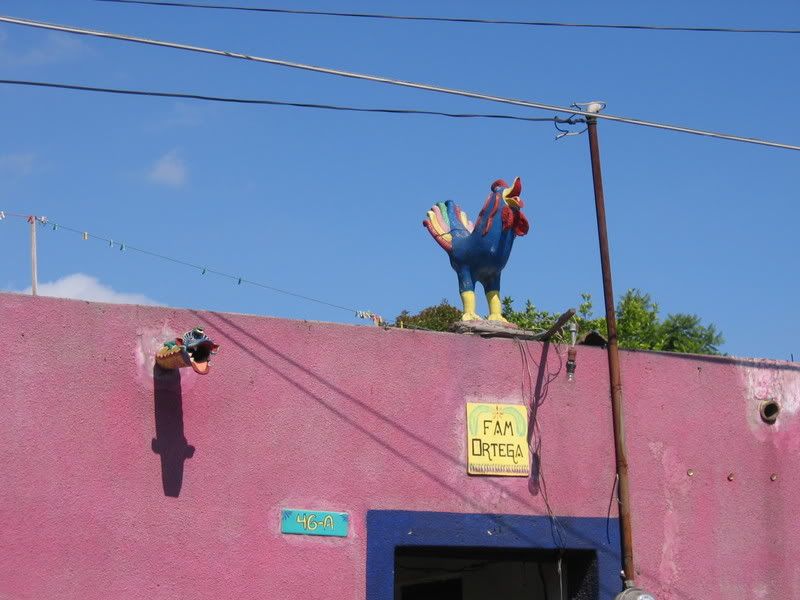 Even though I had been there the day before, I found new and exciting things, and I made a few purchases. One might be my Gonna Make a Change giveaway. I still have to decide. There are so many great things here!
Then we went to Vasquez´s home and once again made some purchases. What we all marveled at was how this man is a world-famous painter (he showed us all sorts of books that he has been featured in), but yet he lives so simply. His workshop is his humble home, with a small, dark, living room, kitchen, bedroom, and bathroom opening onto a small courtyard, adorned with several cages of parakeets. He has a back area for the kiln and workspace, and a room (below) for all of his awards and his pieces for sale. He works with his sons and grandsons, and he is so proud of his work.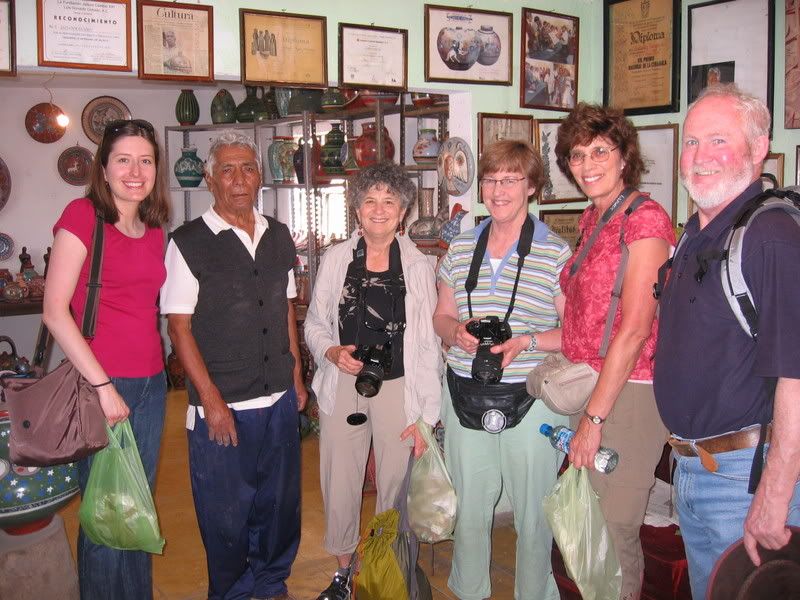 Here I am with Salvador Vasquez, Irene, Sally, Janice, and Glenn.
After we left Vasquez´s house, our driver, Luis, attempted to take us to Tequila. Unfortunately, there was a large-scale demonstration going on outside a sugar factory on the way from Guadalajara to Tequila. There was no way to turn around, except to risk driving through a gulley that separated the two directions of the highway, so we were stuck!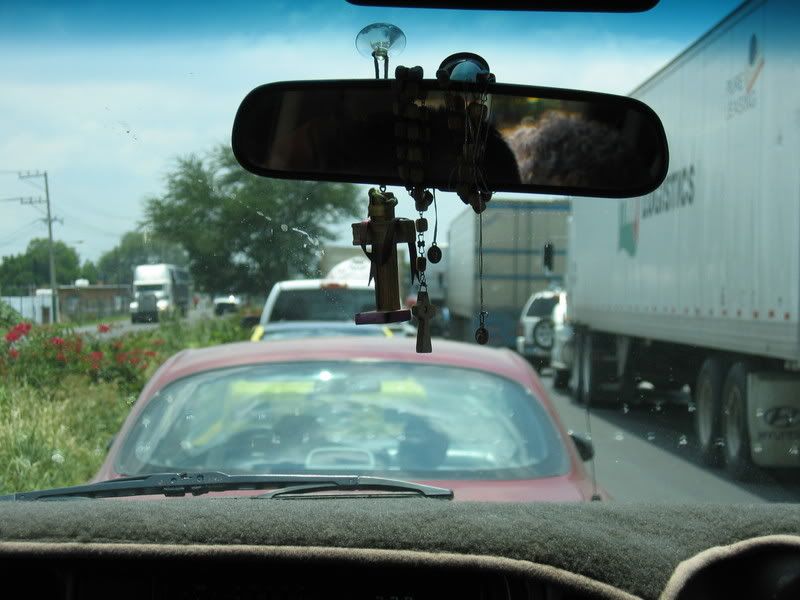 Apparently, the sugar cane farmers were protesting the fact that the factory had not paid them. As a result, Highway 15 - the only route that leads from this part of Mexico up to the United States - was impossibly snarled with parking-lot traffic. We saw soldiers with rifles in open-backed trucks in the mess of cars, buses, and tractor trailers.
It was an exercise in patience and a whole lot of other things. Irene said it was like how in life you never know what´s coming up down the road. At least we were able to turn around safely, finally, after sitting in the car for over two hours. And it was amazing how, despite the great inconvenience of all of this, everyone seemed to be taking it easy. We only heard one honk, and there were no signs of road rage. People got out of their cars, walked around, bought sodas from a young man who came along with a bucket of soft drinks.
So we did not make it to the town of Tequila. We did not get to go on a factory tour or see a distillery. We didn´t even get to buy tequila souvenirs! But at least we got to come back to Tlaquepaque, eventually, and very much enjoy a delicious lunch that we appreciated much more than we would have before.
Afterwards, we parted ways for the afternoon, and I took a walk around town, relishing my freedom of movement. So much to see here - so many contrasts between wealth and relative poverty. Not to mention the contrasts of the prices of the items being sold in the galleries compared to the prices asked by the artists from whom we bought pieces.
Still, it is such a blessing to be reminded of how much we have in the US and how we should not take it for granted.
On my way back to the B&B I saw this sight, and it made me think of my mom. This one´s for you!