I just got back from my shopping adventure on market day in Tonala.
Tonala
is a town of artisans located about 5 miles away from Tlaquepaque. Every Sunday and Thursday, hundreds and hundreds of stalls open up along the main road (which is already lined with tons of stores).
I could not take too many pictures because people are very sensitive about having their photos taken, and usually, I only feel comfortable asking after I have bought something from them. I found this out the first time I went to Mexico (Oaxaca in 2003).
But I did get a few shots of some of the hustle and bustle.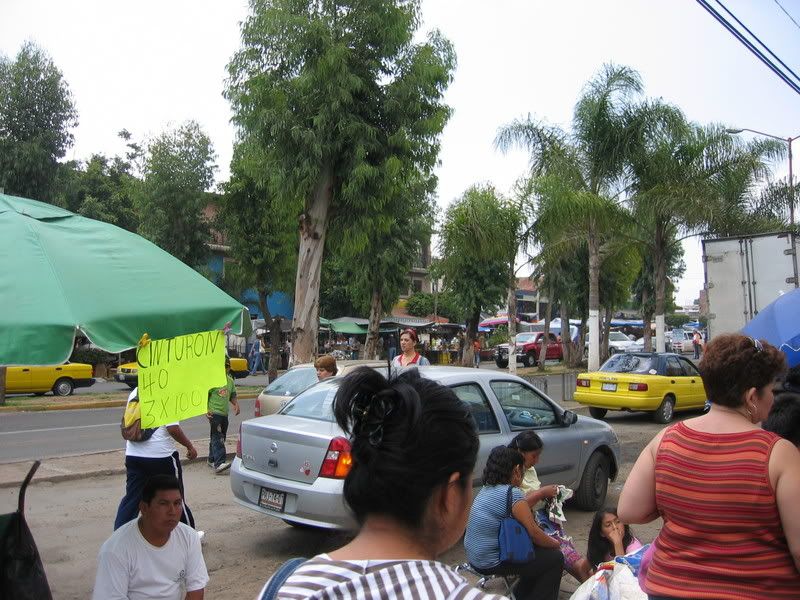 Tonala is like shopping on crack! I seriously have never found a place anywhere in my travels that even holds a candle to the kind of shopping you can do here.
What makes it different is 1) the diversity of the handicrafts - you will find all manner of ceramics and pottery, wood crafts, furniture, metal work, glass, and more, and 2) much of the items for sale here were actually made in the area and are made or finished by hand. Of course there is the third part: it is so reasonably priced!
I bought some miniature pottery vessels from this mother and daughter. Guide books say you should bargain, as that is the culture in Mexico. But I just didn´t have the heart to negotiate most of the asking prices! I got a bag full of small pottery dishes and molcajetes for $2.50.
What was so great to see was the family atmosphere, both behind the stalls and in the streets. Now that it is school vacation time, there were even more families than usual out and shopping together. It really is so nice! I was thinking how you don´t find this in a lot of places in the world. In certain cultures, men and women do things separately; and in the US, you see people segregated more by age.
I felt very safe. Even though I kept an eye on my belongings, I never felt like I might be the victim of a thief. Pickpocketing just didn´t seem to fit with the vibe of this area. Also, I didn´t feel like anyone was trying to rip me off. People here seem hardworking and honest.
I went back to the ceramics factory I went to at the end of the artist studio tour on Monday. Did I mention how I found these fabulous duck napkin rings last time? I realized I needed a few more, so I found my way back to the factory store. There I picked up a few more things, including a piece that will be a Gonna Make a Change giveaway! (Stay tuned.)
I also got to see some of the work in action.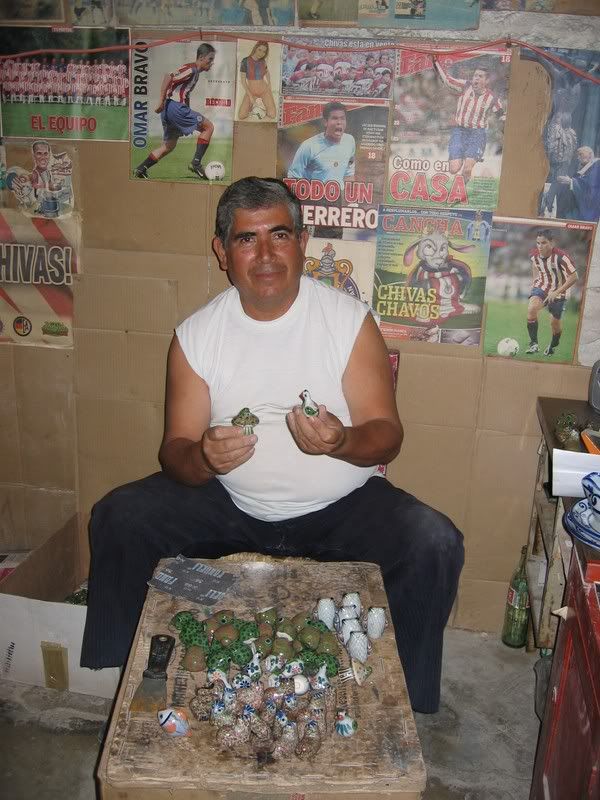 Here is a man sanding the bottoms of the ceramic figures. They were so cute, I had to grab a few more!
After that, I ventured back into the labyrinth of stalls and decided to try some food. I saw a stall that had tacos with mushrooms and cheese, among other things, and I decided to try! Again, it was a family group, I believe. The mother and daughter were cooking the tacos and gorditas, and the father was selling beverages. There were tables and small plastic chairs, so I sat and ate. One thing that´s interesting is that food vendors will put plastic bags over plates, so they can serve the food on the plastic and then throw only the bag away after the customer is done. That´s a lot better than styrofoam.
I have to admit that I like more Americanized versions of Mexican food. I just don´t have the taste for authentic corn tortillas. Flour tortillas are where it´s at for me. Unfortunately, you don´t find those in Mexico - or at least, I haven´t yet. My favorite Mexican restaurant is still Charrito´s in New Jersey, and I love me a Qdoba burrito. For all the Charrito´s fans among my readership, if you want to get the same look for yourself that you find in their restaurants, just come on down to Tonala! You´ll be able to find the same glasses, plates, and decorations here. They are truly authentic.
Anyway, after several hours of shopping, I was getting tired. Of course, there was still so much to see...but I had to finish sometime. Before I left, I found a stall where a family was making paper calla lilies.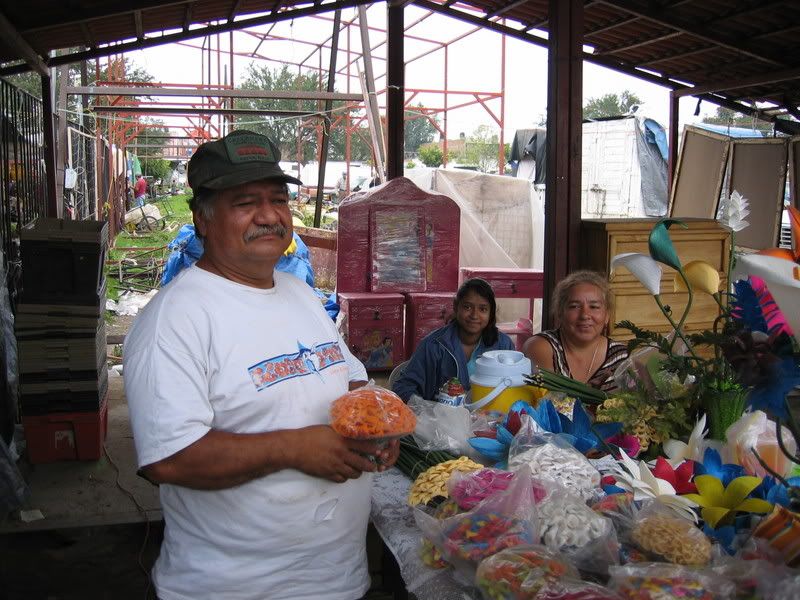 The had a bouquet of orange ones, and those looked pretty close to my wedding flowers. So I bought those, as well.
I´m not sure how I´m going to fit everything into my suitcase...and I really have held myself back. I could´ve bought a lot more!
This has been a lot of fun, and I would totally recommend it to anyone who even marginally likes shopping.