After coming down from San Jorge, we traveled through Panajachel, across the bridge over the dry riverbed to Mayan Families' headquarters. Julio and the driver dropped us off outside the compund walls. We were let in through a wooden door, and suddenly, we were in a completely different world.
Headquarters:
Mayan Families headquarters is actually the home of Sharon, the founder of the group. There is a large courtyard filled with playground equipment, dog kennels, plants, and trees. A stream runs through it, somewhat sectioning off Sharon's house, and there is an office and waiting area with chairs near the front gate of the compound. Sharon has a modest-sized house with high ceilings and a large kitchen that opens up to the living/dining room. Outside the front of her house is the staging area for many Mayan Families operations. There are one or two long tables and many shelves stacked high with donations and supplies. Although this is really part of her personal space, she so generously opens her home to the staff, visiting donors, as well as the recipients of aid.
The dogs:
We met Sharon, and she gave us a tour. Sharon has about 20 dogs on the property, some walking around, others in the kennel. She has saved them from various fates on the street. The one dog we were instantly drawn to was a tiny puppy that Sharon's older daughter, Zoe, had rescued on a school trip. This little puppy was the only one that had survived from the litter. Her tail was the width of a pencil, and she barely moved. She was so tiny that she would have easily been trampled in the flurry of activity. Sharon's younger daughter, Aleeya, pictured above, carried the puppy. Michael also found himself very attached to her.
We got to see the inside of the small office, abuzz with Mayan Families' indigenous staff working on their various cases and programs. As I recall, there was only one computer for all of them to share. At this point, when we arrived, one family was waiting outside for help. Normally, there are many more waiting, but this was just the calm before the storm.
Talk with Sharon:
Sharon took us back into her house, and we sat down and talked.
I began to understand the pressing need for operations help for the organization.
Mayan Families donors usually get started with sponsoring students, and they send money to provide for food and other necessary items for "their" families. However, not many people send unrestricted gifts that can cover the cost of operations. As I mentioned, the staff only have one computer currently, and they have no automobile of their own. Whenever they go out to the surrounding villages to deliver aid or gifts from sponsors, they have to rent a van or a truck. Donors, myself included, love to receive photos of our sponsored kids receiving what we sent them; however, that requires staff and computers to make that happen. Mayan Families has grown so much in the past year. Now there are hundreds and hundreds of sponsored children. It's no easy feat keeping up with the needs and desires of the donors.
However, this is simply a stumbling block for now. Sharon is extremely grateful for all of the donors' support and what they are allowing Mayan Families to accomplish. I told her how grateful all of us are for HER and what she does. It really is as much of a gift for us sponsors to be able to affect some change and see it either first hand or in photos. I vowed to do as much as I can to help the operations fund, so that Mayan Families can better carry out their programs.
While we were talking, we found out from some others that Sharon's internet access was on the fritz. Michael, being the IT guru he is, went in and did what he could to help out. There was a problem with the internet provider itself. I was reminded of how challenging it can be for Sharon and the organization to be on top of the mountains of emails that come from the States every day when you have to deal with internet services of the developing world. We're used to speedy responses, but sometimes it is completely impossible.
Then lunch was ready for us. Sharon has a cook that prepares food for the staff and for visiting guests. We had a delicious menu of tortillas, rice, beans, guacamole, an omelette-like egg dish, and Russian salad, which Sharon told me was a delicacy for the Guatemalans. It was so kind and hospitable of Sharon to provide lunch for us like this. We really were not expecting it! But it was the perfect pairing: rich conversation and delectable food.
Meeting the Cumpar family:
After lunch, there was not much time for relaxation, as families were starting to arrive for that afternoon's chicken distribution! Before I knew it, someone told me that the family of our sponsored girls, Juana and Candelaria, were here. All of the sudden, I was nervous and excited, and I didn't know what to expect. I was out in the front porch/staging area of Sharon's house, and I saw a small woman coming in. She looked familiar, but I wasn't sure. I asked someone, is this their mother? And the answer was yes.
The mother was sick, but she had made the trip anyway. The Cumpar family live in a distant village, so it was much easier for them to come to us, than have Mayan Families drive us out to them. She held the baby, who had a handkerchief around his head. I remembered the little one's name: Antonio. The mother was accompanied by Rafael,
Patti's
sponsored child, and Maritza,
Tricia's
sponsored child. It was incredible to see them in the flesh. I had only known them through pictures before, so it was almost like meeting celebrities! However, my heart dropped because I didn't see Juana and Candelaria. They were on their way, someone said.
And then I saw two girls coming through the front gate, walking towards where we were standing. It was them! I knew those faces, and I knew those smiles. I felt tears come to my eyes. "Juana!" "Candelaria!" I exclaimed. They came over, and I hugged them. I had had no idea how tiny they were.
Michael had been in the house and missed their arrival. He came out and met the family, as well. It was then time to give them their presents. I tried to explain in Spanish what the things were, and Sharon's daughter, Zoe, helped out a bit. We had everything in a tote bag, and I pulled out the individual items and gave them to the recipients. First, I gave the mother a dish towel from my own mother and a little bag filled with soaps and shampoo. "Gracias," she said. I gave her a little plush ring toy for Antonio. "Gracias," she said again.
I gave Rafael a Yankees baseball hat, and each of the girls received a Hello Kitty notebook, pencil, and a hair ornament I had put for each of them in a plastic bag. The mother said "Gracias" to each and every item that passed between us and the family. The rest of the bag was for all of them. We wanted to get things that would allow all of them to have fun and be creative. So we got them different kinds of construction paper, scissors, glue, markers, pencils, crayons, stickers, and more. The kids seemed excited, and the mother, again, was very grateful.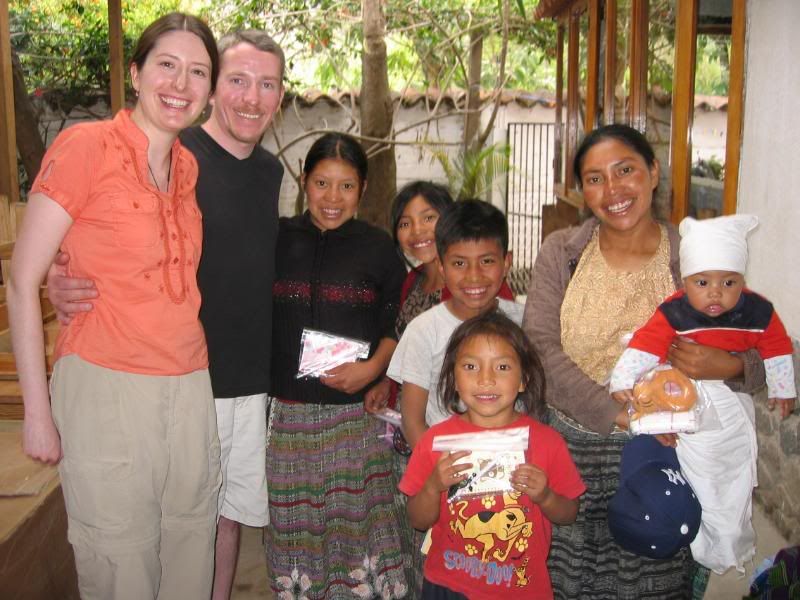 It was all a whirlwind of excitement. We also gave them a photo album with pictures of Michael and myself, some pictures of Patti and Tricia's families, and some photos of the Cumpars, themselves. It's not common for people here to have pictures of themselves.
I wished I could speak with them more. But between the language barrier and not really knowing where to begin, the communication was mainly nonverbal. We smiled and hugged, and in a way, that was plenty.

Rafael shyly came up to me and asked, "Cual es tu nombre?" (What is your name?) and I told him.
My mind was full of images: seeing the family together, the mother's eyes when saying "Gracias," Juana and Candelaria's smiles. I had so much to keep with me the rest of my life.
Chicken distribution:
Then it was time for the chicken distribution. We had donated chickens for the family, so they would be getting some, too. The courtyard was getting very busy, as 40 families had gathered to collect their chicks! The Cumpar family went over to wait for the start.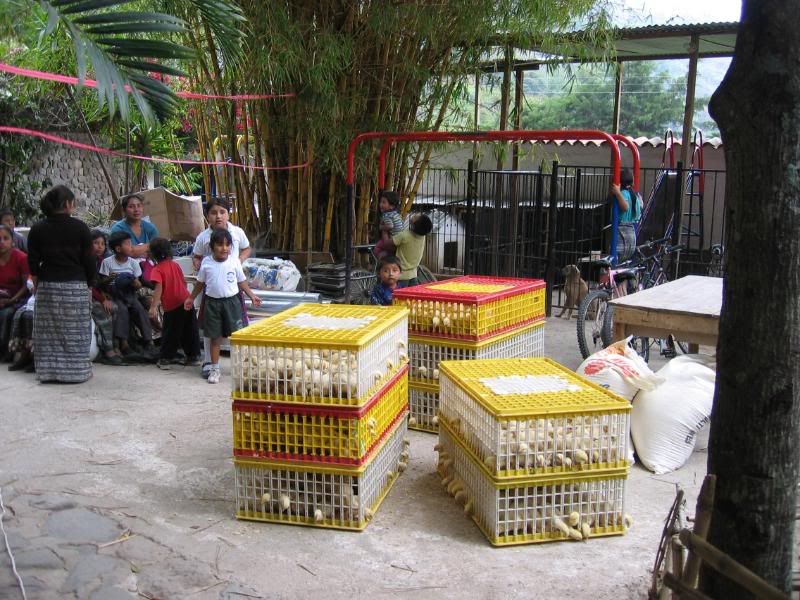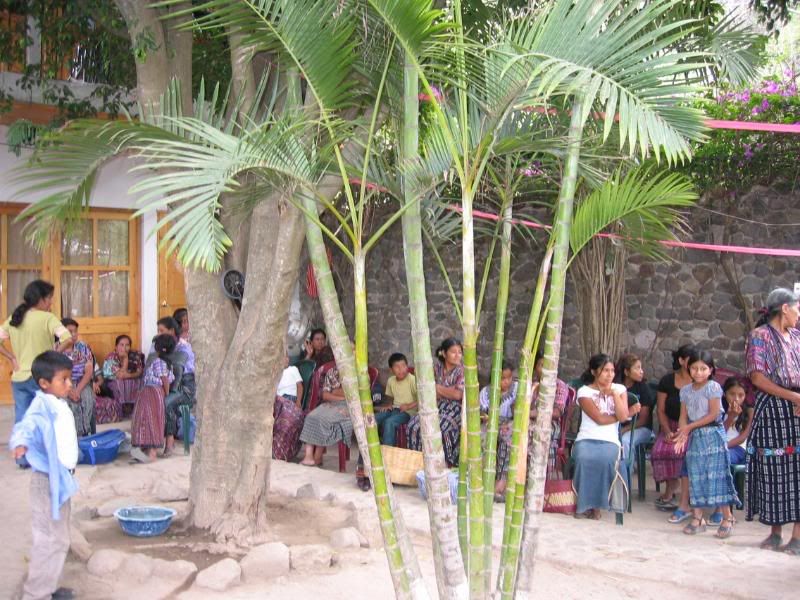 Once it was time to begin, Sharon gave a speech about the chickens and how they were living creatures that need food and water and caring. Everyone had to provide a basket or a box with holes with which to transport the chickens, so that they would not die en route. I didn't think the Cumpars had a basket with them. I was going to see if I could buy one for them, but I saw Juana and Candelaria run out the gate to go find something.
Each family got 10 chicks and a bag of food. Some women helped prepare and bag the food.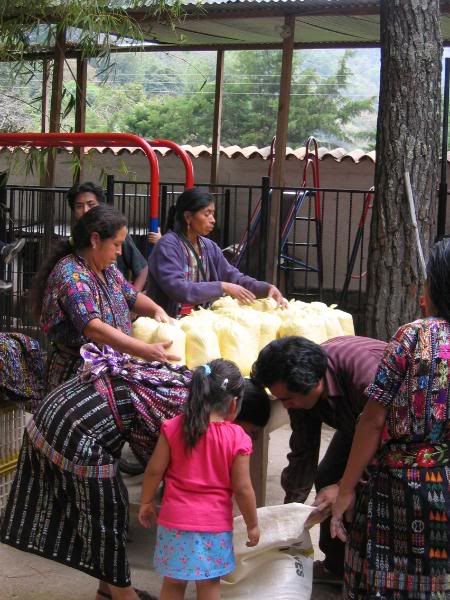 And then the distribution started. Sharon encouraged Michael and me to participate, so we did! And what fun that was. It is not easy to grab ahold of skittish chicks and put them in a basket or box. They jumped; they flew. But eventually, they got in!
In between all the hustle and bustle, I kept looking over at the Cumpar kids. Juana and Candelaria had returned. I would smile and wave at each of the kids and see them smile and wave back.
I had these little, squishy, stretchy plastic dinosaurs from Target in my pocket. I had brought them along for any kids I might meet randomly. Maritza was running around and came by. I called her to me and gave her one of the brightly colored figures. She took it and ran away. Then Rafael came over and asked for one. I giddily gave him a dinosaur. In the end all four of them had one and seemed to enjoy stretching and squeezing them!
Shoe distribution:
At this point, I wound up going back to Sharon's porch, where a Medrano shipment from Mayan Families donors had come in. There were two big boxes filled with shoes, and those were to be distributed, as well. Children came in, about five at a time, to get a pair of shoes that fit, have their photograph taken, and then go out. I helped dig through the boxes to find pairs that looked like they would fit. It was eye-opening. My experience shoe shopping had always been in stores and involved brand new shoes. Here, we had boxes full of used shoes, some quite beat up, but yet, they were such sought after items. You didn't look for which shoe style you liked and then inquired if they had your size. Instead, you looked for which shoe, regardless of style or even intended gender, would come closest to fitting your foot.
I did my best to help the kids out. But often times the shoes I picked for them did not fit, so I had to go back to the box and fish around some more. It was heartbreaking to find one good shoe but then to realize its its mate was nowhere to be found in the tremendous jumble. One boy said he really needed sneakers for school. I looked and looked, but all the sneakers I found for him did not fit.
However, most everyone found something, even if it wasn't quite what they wanted or quite fit. Something was better than nothing. But it certainly made me think about shoes in a very different way than I ever had.
While I was distributing shoes, I missed Juana getting the chickens, but Mayan Families took a picture.
Then it was time for the Cumpar family to make the trip back to their village. We said goodbye and were sad to see them go. At least they were laden with things that can help them out. Chickens can give them nourishment, and the gifts can give them hope and proof that they are not alone. We definitely want to see them again. I feel such a bond with them now.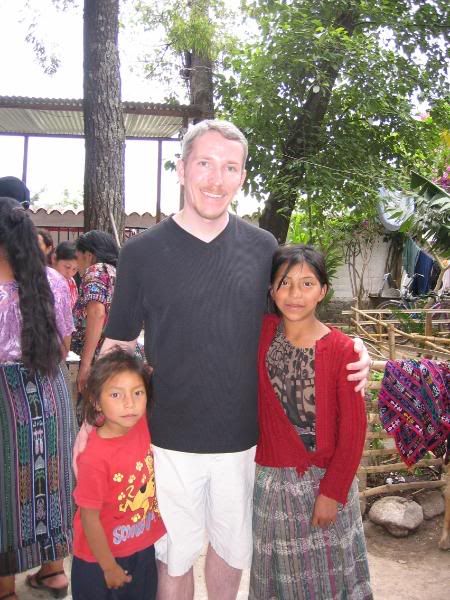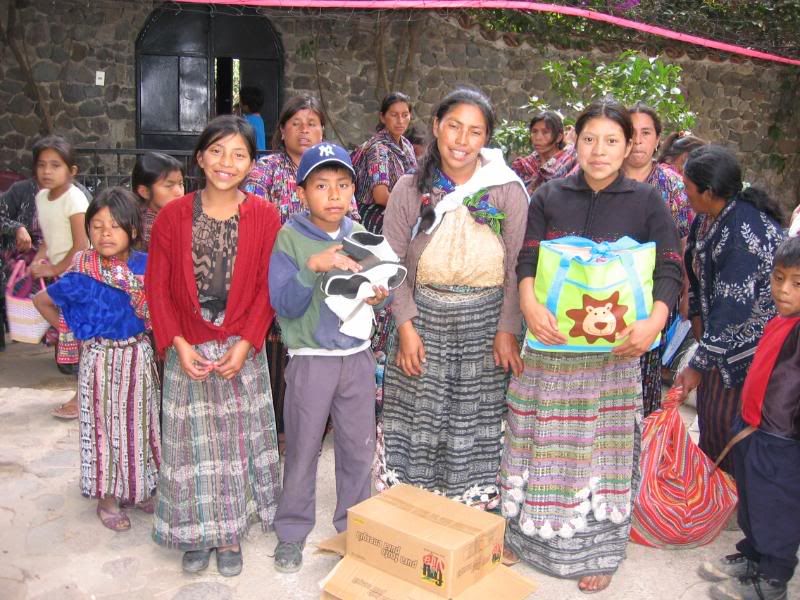 And then it was time for us to leave, as well. We were off to see Selaine and Mayan Families' Healthy Pets program. Sharon called us a tuk-tuk, and we said goodbye to her, thanking her for everything. It had been such a wonderful day, unlike anything else. We were so grateful.