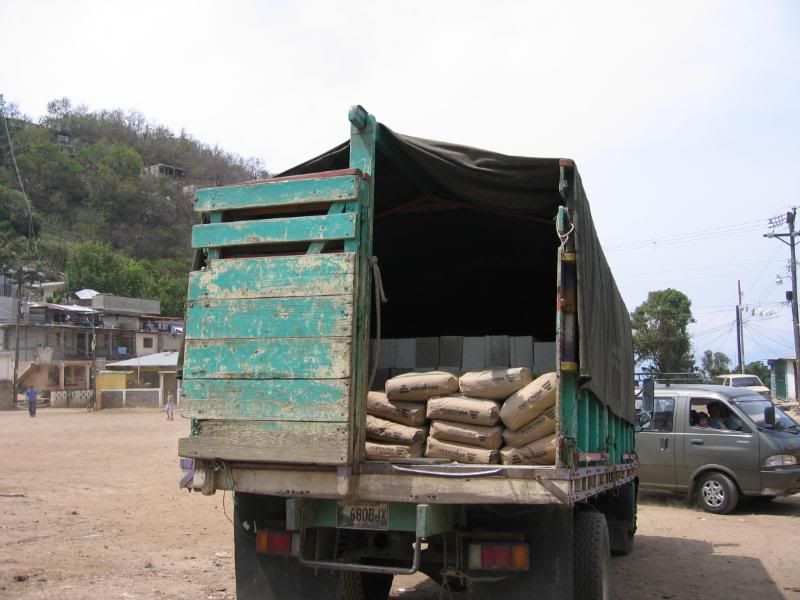 In my first two installments, I talked about our preparations for the trip, arriving in Guatemala, traveling to Panajachel, and then the start of our day with Mayan Families. I left off as we were driving back from Tierra Linda, on our way to San Jorge. And here we go…
San Jorge is built on a valley above Lake Atitlan. We had seen it from the overlook earlier that morning. Now, after passing back through the busy town of Solola, we drove down a small road, past simple houses into the dusty heart of San Jorge. Paths twist and turn and go uphill from the center of town, which is a large dirt square bordered by an old church, a volunteer fire station, and some small shops. I imagine this area could be used for many things: a market, a parking lot, a gathering space. When we arrived, the item of excitement was parked in front of the church: a green truck filled with concrete blocks and bags of cement mix.
We got out of the van, and Julio introduced us to some of the women of the town, including the officers of their women's group. They were quite a feast for the eyes with all of their multi-colored guipiles and cortes. The women thanked us for what Mayan Families was doing in San Jorge. Then they went to the truck, and each took a block or bag of cement on top of their head and started carrying them away, while we started on our tour.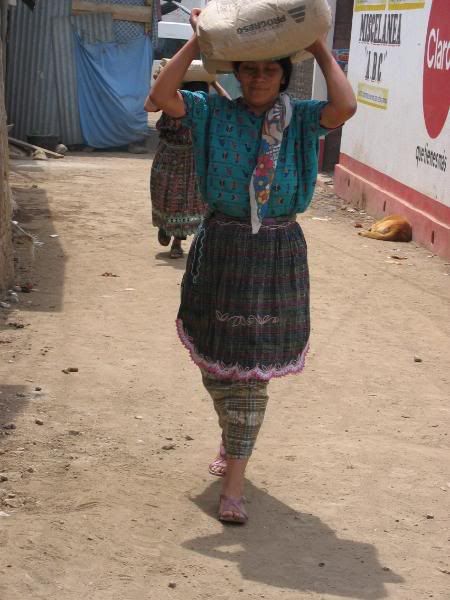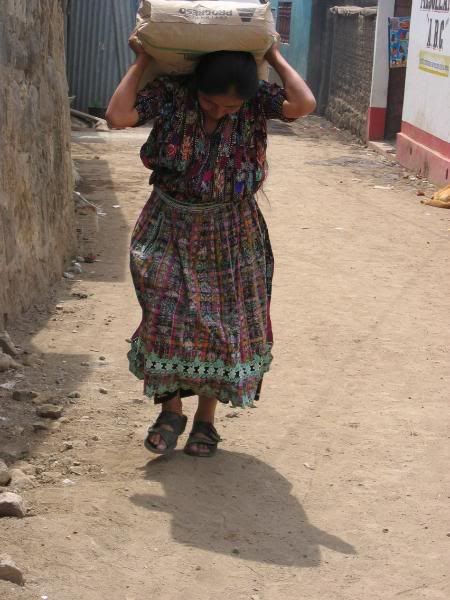 As we started walking, I noticed there were two buildings near the square that had curtains hanging half-way from the corrugated roof to the ground. Beneath the curtains, I saw stools and little legs and feet. As it turns out, these were video game arcades. I'm not sure what the deal was with those. Are those kids not in school? I don't know. At any rate, an arcade was not something I had expected to see here.
Julio took us to the site of the new San Jorge community center, which is, I believe, where those building materials were heading. At that point, it was just barely an outlined construction site. A lot of work is yet to be done. However, I wonder how much farther along it is already.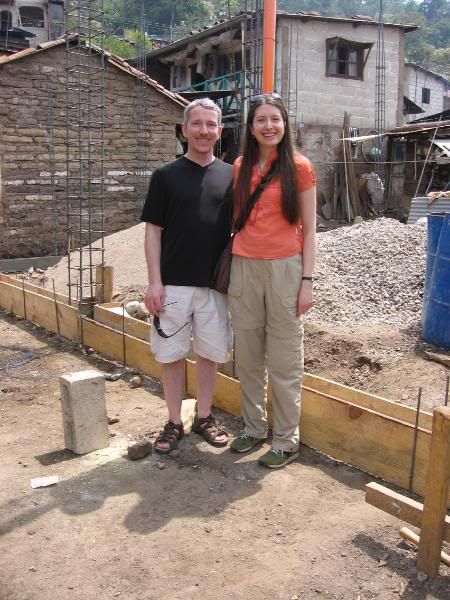 We got to see the room where the sewing classes take place. As I understand it, it is a room Mayan Families rents from one of the local women. While the room is small and sparely furnished with old tables and chairs, the walls are lined with windows, letting in light and hope to accompany these sewing machines.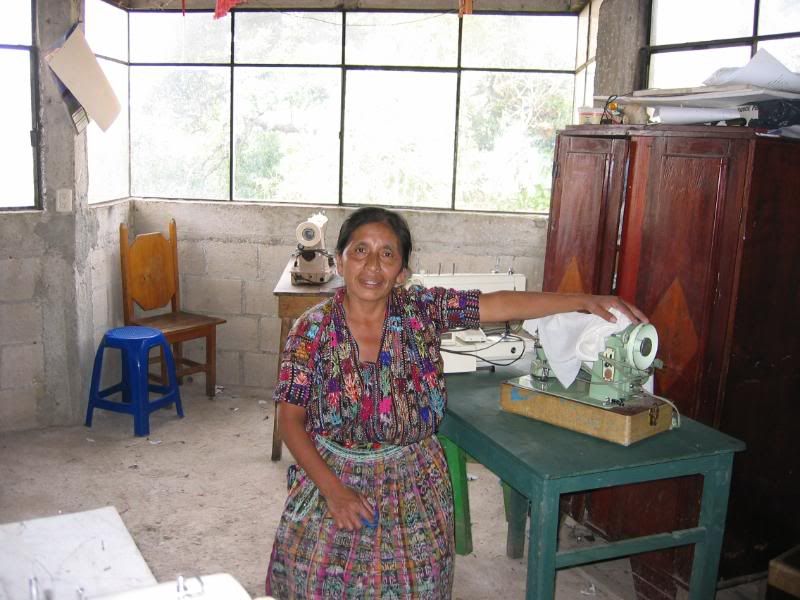 And on we went. Julio led us uphill on narrow paths to more of the town. We stopped at a house that Mayan Families had helped rebuild. Apparently, it had been very bad before. Now it is made of cement blocks with a sound roof that won't let the rain in.
We got to go into the kitchen and see an Onil stove in use. The kitchen was really tiny and rather dark. Michael and I remarked at how it made our two person-maximum occupancy apartment kitchen in Union City seem like luxury. However, for down here, this was definitely a step up. The kitchen is a separate room, and the Onil stove allows for much cleaner, healthier air than the traditional cooking setups. And don't forget about the strong roof over their heads.
It really gave me pause to think. Here I had been complaining about the fact that our stove is half-size and won't fit our roast pan or cookie sheets, and that we only have a foot of counter space, and that when our dog tries to come in when both of us are in the kitchen, we can't even open the refrigerator door. But we have running water right there, refrigeration, multiple safe, hygienic ways of cooking, bright lighting, and clean places to store our dishes. Need is very relative.
After visiting the house, we headed up to the school, following the many children. On the path right outside the school, there were older girls and women selling snacks to the kids, including pieces of brightly colored fresh fruit in narrow, clear plastic bags. If only we had had THAT at school when I was a kid! That would have made healthy snacking so much more fun.
We entered the gates of San Jorge's school and found ourselves face to face with the lime green colored buildings and the masses of playing children. The kids seemed very excited to see us, and they all wanted to have their pictures taken. After I clicked my camera, they clamored to see their faces on the display.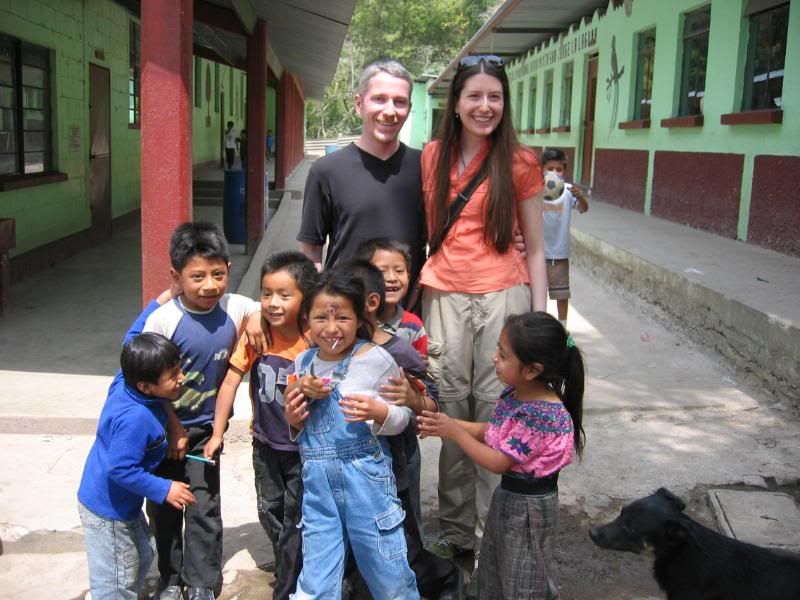 Julio showed us where the playground was going to be built. At that point, it was a dusty lot next to one of the school buildings with a pile of logs on the side. I know now it is already a working playground with lots of fun equipment, thanks to Amber and Ryan, Mayan Families donors. Amazing how much can change in just a few weeks or less!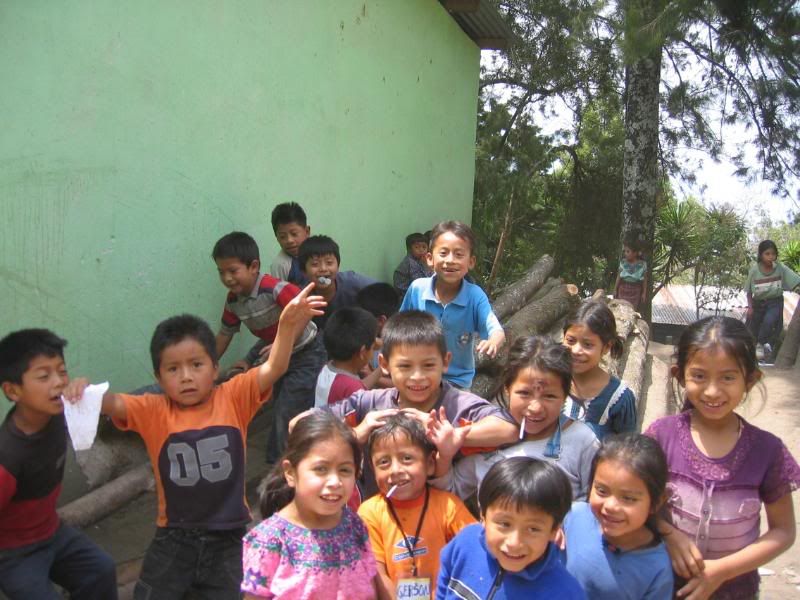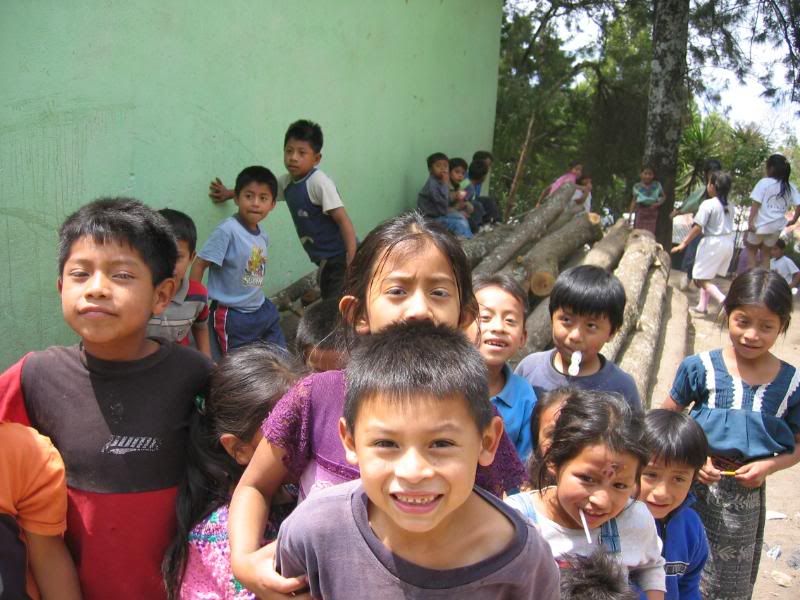 The main impression I got from seeing the school was how happy these kids were. I couldn't help but be buoyed up by their joy. Despite the surroundings that I'm sure most everyone I know in the US would consider abject poverty, these were the happiest people I had seen in years, maybe ever, certainly never in New York. You never see large groups of happy people. It made me realize how sad it can be to be caught up in our very important lives in the States. I walk on Fifth Avenue every work day, but I never get the sense of fulfillment and happiness as I did that day in Guatemala.

However, I don't want to oversimplify this. On our way out of town, I saw some children outside of homes, and I remembered that not every child attends school. And even those who do attend do not always have food to eat, or they may have an abusive parent. I believe there is a happiness that is native to a life that is rich with simple pleasures, and there is a happiness that comes when hope is introduced, as with the Mayan Families projects. While we saw happiness, there was also pain and sadness that we did not see. Although the happiness made me feel so good, I cannot forget what else is out there.
We left the school and the kids, and walked back down towards the square.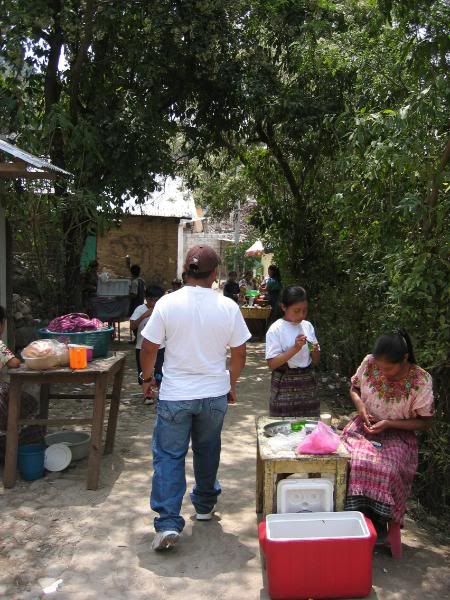 On the way, we passed a classroom that houses the overflow from the school. San Jorge's facilities eventually will be built up further, so the students who are currently in the satellite classroom will be with the rest of the school. However, at least there are some creature comforts now. Mayan Families has built restrooms nearby – designated "Adan y Eva", or Adam for the boys and Eve for the girls!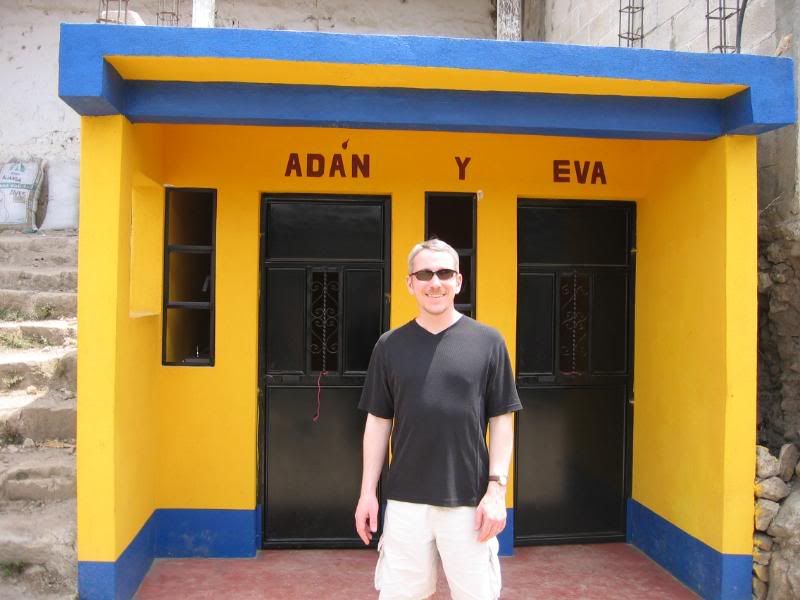 When we got back to the square, the women were still busy with unloading the truck, and the square itself had turned into a gym class for teams of children.
The kids were doing some challenge with cones and soccer balls, and it conjured up memories for me of elementary school.
Then all of the sudden, it seemed like almost all the women in town were there, and they were lined up to sign a notebook on the hood of a pickup truck. I'm not sure what that was all about, but perhaps someone in Mayan Families can enlighten me. Once again, it was the parade of colors and textures of clothing before our eyes.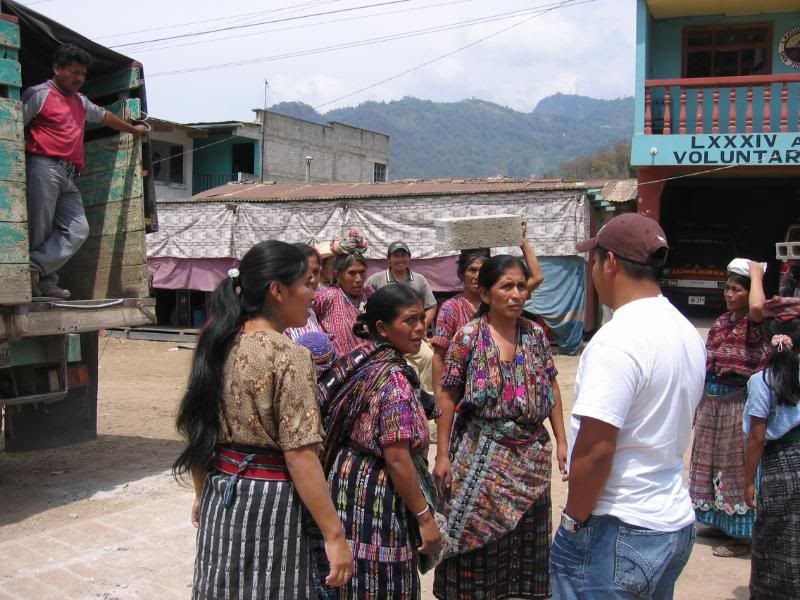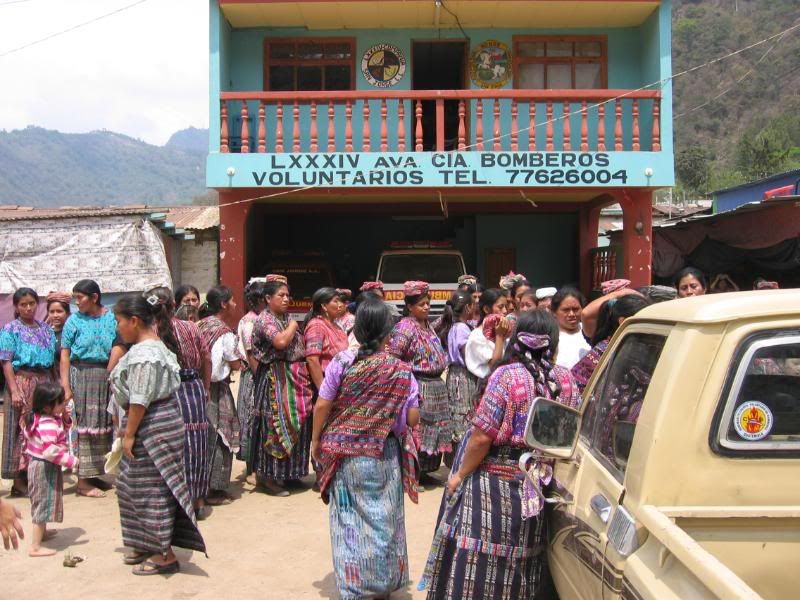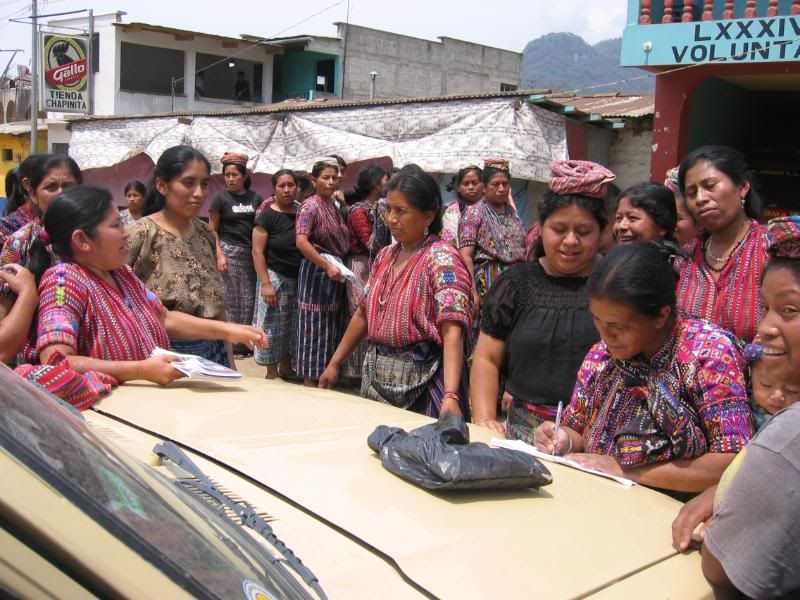 To the side, an older man came up to Michael and started asking him for money. Julio said he was
borracho
or drunk and shooed him away. That was the only instance of a drunk we saw on our trip that morning, but you wonder how many are hiding away in the shadows.
It also got me thinking to what happens when the children grow up. I thought of the happy grade school kids we saw and then wondered what their lives would be like once you fast forwarded a few years. What sorts of gender roles are they subconsciously learning right now that will assert themselves as they enter their teenage years and beyond?
There was a lot to think of after this stop. While I had been overwhelmed by beauty in Tierra Linda, I started to see more of reality in the dusty streets of San Jorge. I was ready to go the Mayan Families headquarters and meet Sharon, so I could start putting together the pieces of what is going on in this part of Guatemala and how Mayan Families is making a difference.
We left San Jorge and set off toward Panajachel. Once again, we stopped at the Mirador to look down on Lake Atitlan and see the tiny boats making their epic journeys between the volcanoes.