Friday, April 11, 2008
It was a beautiful morning in Panajachel. Lots of sunshine, although we still couldn't get a clear view of the volcanoes.
Michael and I had breakfast on the patio at Hotel Atitlan and started with slices of delicious, fresh papaya, mango, pineapple, and melon on Fiestaware plates. Michael had the typical breakfast, which was kind of like huevos rancheros. I had read that Guatemalan food is similar to Mexican. One difference I noticed was that the black beans are refried and are paste-like in consistency. I normally don't drink coffee, but I sipped some of Michael's and had to agree that it was very satisfying and strong.
We had already experienced "Guatemalan time" that morning. The night before, we had asked for a wakeup call at 7:00. It was a good thing I woke up ahead of time and started getting ready because when they finally gave us the call, it was 7:20. Sharon had told us that Julio, one of the Mayan Families workers, would be picking us up in a van at 8:30. Imagine our surprise, once we were back in our room after breakfast, when the phone rang right at 8:30, saying our van was here!
This was an amazing day when all sorts of things in the universe clicked and small miracles were possible. You know about my nauseousness on the drive to Pana. Despite the fact that we traversed all manner of windy roads on our drive with Julio, not once did I feel the least bit motion sick. And somehow, despite an almost complete lack of practice since my language course in April 2002, I was able to understand and converse in Spanish with Julio. My husband had taken a crash course with Rosetta Stone, and he was doing even better than me!
But back to the trip. We – Michael, myself, Julio, the driver, and a boy who was along for a ride into a nearby town – started up the mountain road above Hotel Atitlan. They stopped at the Mirador (scenic viewpoint) for us to take pictures looking down on the lake.
Unfortunately, it was too hazy to get much of a good shot. But you still got the idea of the beauty of the volcanoes and lake you were beholding. Julio pointed out San Jorge, which we would visit later. Our first stop was Tierra Linda.
To get there, we drove through Solola. On the way, they stopped at a point in the road that looked out onto a cemetery in the distance.
The graves were brightly colored and stacked on top of each other. It was almost like a little city. We took some pictures and moved on. On the way, Julio pointed out some of the traditional clothing that people wore, and he told us that his native language was Kakchiquel. He is originally from Pana, but the driver was from one of the towns around the lake.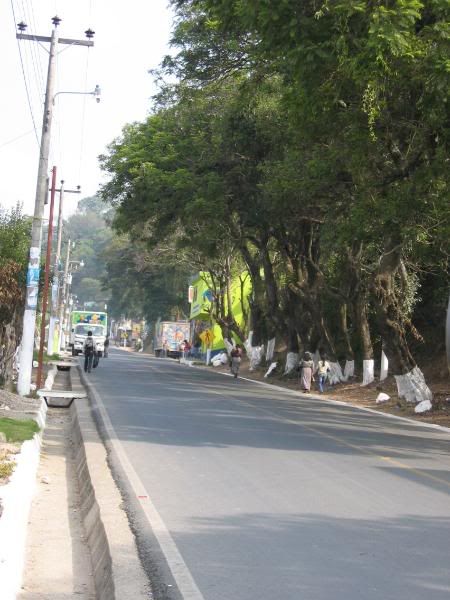 Even though we were at a higher altitude than I probably ever had been, and also despite the breathing problems I had seen my doctor about the week before, I had no troubles breathing in the clean, refreshing air, especially as we headed more into the country. As we drove along, I saw
pilas
, as I had read about them on Mayan Families Connection. I saw women washing clothes and one washing her hair at these outdoor sinks. I noticed the different kinds of
guipiles
(blouses) that the women wore and remembered how they are representative of the different areas of Guatemala.
As we approached Tierra Linda, we traveled on less developed roads and went down some extremely steep switchbacks. We stopped at a point overlooking the valley where Tierra Linda is. Julio pointed out the school courtyard, which we could make out clearly, even from this height. This area truly lives up to its name: beautiful earth.
Then we drove down to get to the town itself. As we drove in, we saw homes made with adobe, which Julio told us was very typical for this area. This was what we in the US often imagine of when we think of poverty: tiny, one room houses with corrugated tin roofs, dirt paths, and maybe some bits of junk in the yard, like empty soda bottles. I know there are places in the world that are much worse than this, but it did seem a bit like walking into one of those Sally Struthers commercials from the 80s.
But it was very different than that. Rather than just feeling pity, I felt a sense of strength and connection. The reason we were here was because of the great work that Mayan Families is doing in this town. I saw beauty in the land around us, and I could sense the latent hope of the people.
Julio took us to the school. It must have been recess because all the kids seemed to be outside and playing in the courtyard. Loud music broadcast, and it honestly looked like a lot of fun.
Julio showed us the kitchen, where the mothers were cooking lunch. We saw one of the classrooms, where Mayan Families had replaced the roof. It used to leak inside and get muddy in the rainy season.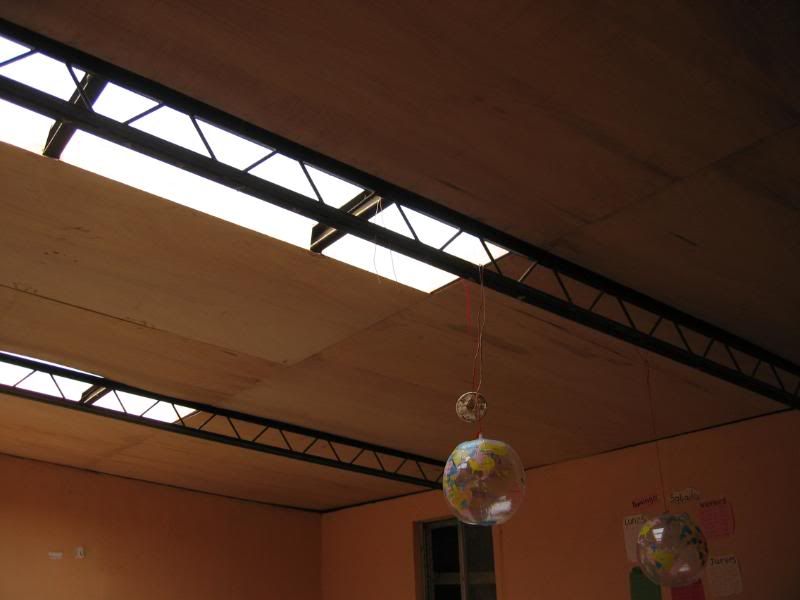 The classrooms were small and had a jumble of posters on the walls, some art projects on the floors, and papers stacked in the corners.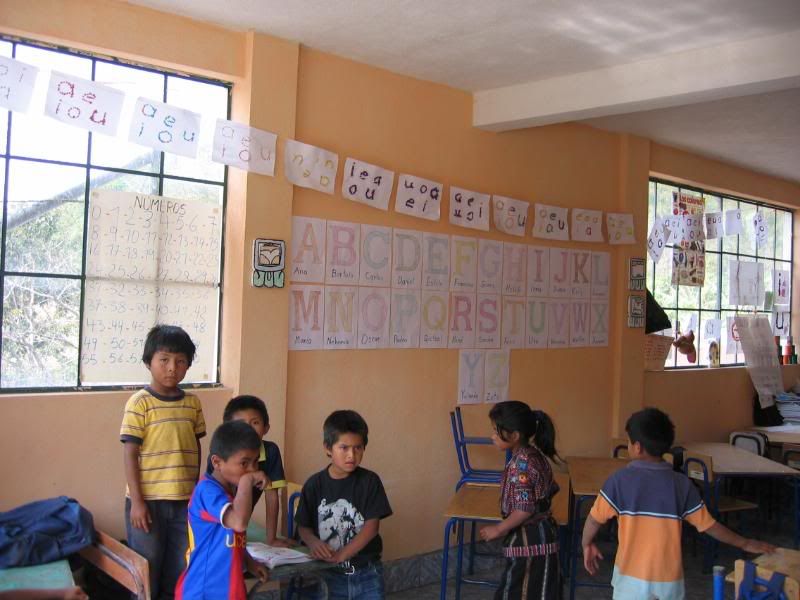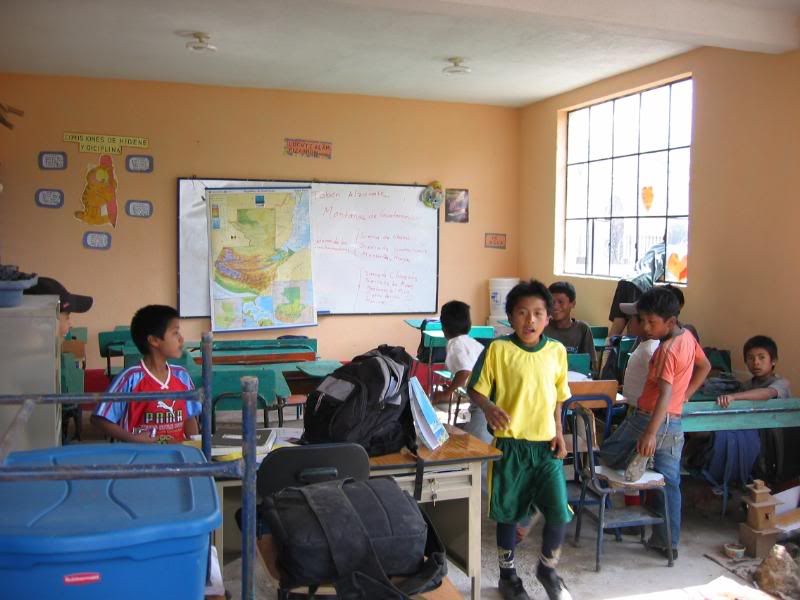 I can imagine some of the difficulties of teaching and learning in this kind of environment. We never saw class in session, so I don't know how many children had to fit in each class. But at least it was a start. And each classroom had a water filter that I had seen pictured on the Mayan Families website.
I had put a pencil case full of glittery pencils and brightly colored pens in my shoulder bag. But, as Michael reminded me, there were so many kids – I didn't have enough to give each one something. Julio had introduced us to the school's director, who told us through word and gesture how grateful he was for Mayan Families' help. I had a difficult time understanding the director's rapid Spanish, but I understood the message he was trying to get across. So I presented him with my humble offering – the red and gold silky case which had been one of very many Christmas presents I had received over the years, filled with some pencils and pens I had carefully collected back in the US. He thanked me greatly for it.
It truly was something so small that wound up meaning so much. I wanted to give more. However, I pledged to myself that I will contribute money this year to this school. And also, something about this gesture felt so right and personal. The pencil case was something I had for years and felt a part of me. Here I was giving something of myself to them. It doesn't always have to be a big or splashy gift to make a difference. I was reminded in a brand new way of the meaning of "it's the thought that counts."
We took some more pictures at the school and saw the plaque on the wall dedicated to Mayan Families.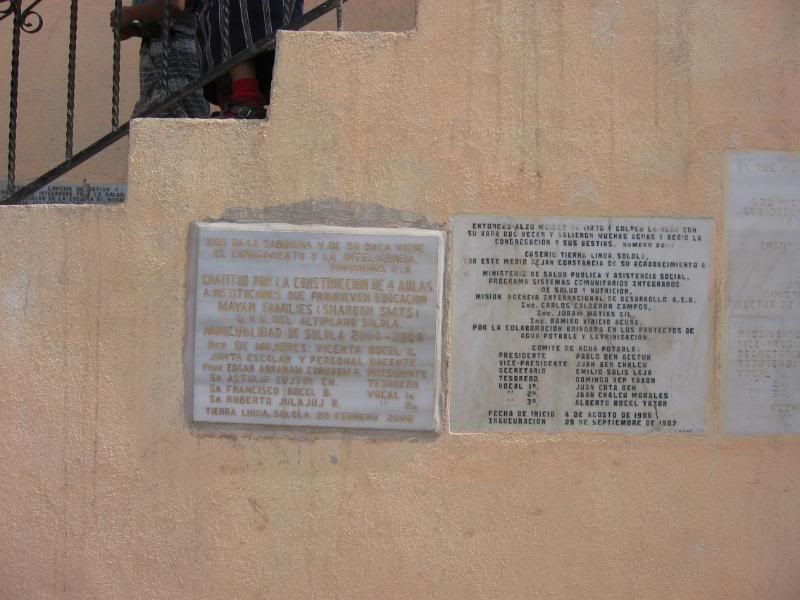 Afterwards, Julio showed us the site where the community center is being built. Nothing like that exists currently in Tierra Linda. It will take a while to build, but it will open up all kinds of doors once it is finished.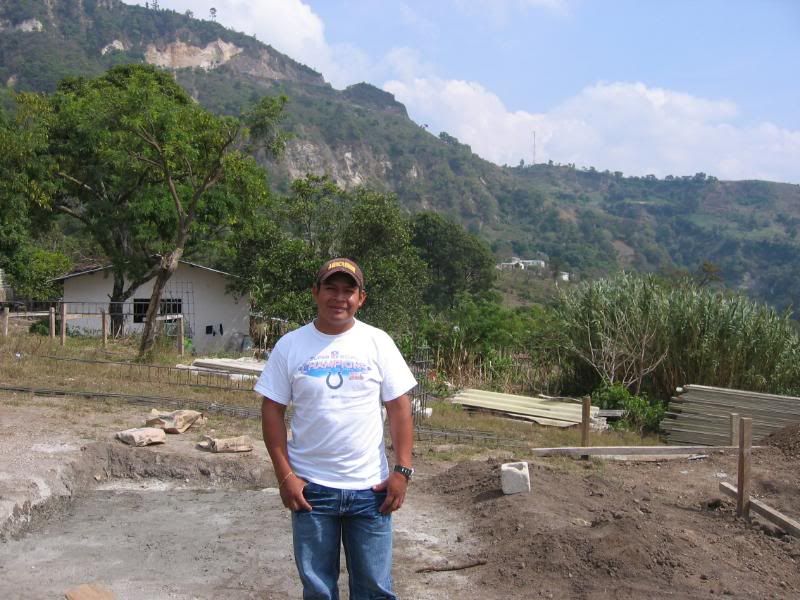 There was a typical little convenience store along what is their main street, and Michael and I bought bottled water to stave off the effects of the sun rising in the sky. I looked around at the green mountains above and the children running in the streets. It was so beautiful. I tried to take it all in and then got back into the van.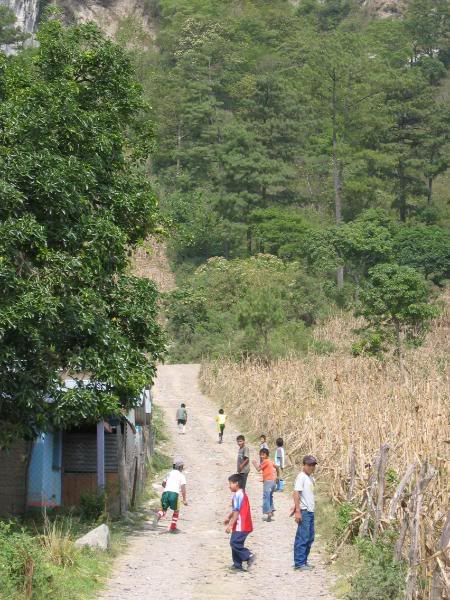 On our way back, I made sure the window next to me was open wide enough, so I could breathe in the air deeply. Young women and children looked at me, the gringa, in the van as we passed by. I took a leap in my own mind and waved at a few I saw. After a little hesitation, perhaps, they waved back. I let myself smile a little bit and then bigger and bigger, and they smiled back. I tried it with the next little girl we passed. And the same thing happened. It was amazing for a New Yorker like me. The magic of being able to wave and smile at people you didn't know, each of us perhaps a bit in awe of the other's differentness from what we know. And the happiness that ensued. It was amazing.
Truly amazing.