When we first sponsored our Guatemalan kids, Juana and Candelaria, we found out they have a younger sister, Maritza, who is sponsored by a woman named Tricia. I got to know Tricia online a few months ago, as we were trying to figure out what we could do to help the family together. As it turns out, Tricia has a blog called Sisterly Shenanigans, which I started to read religiously.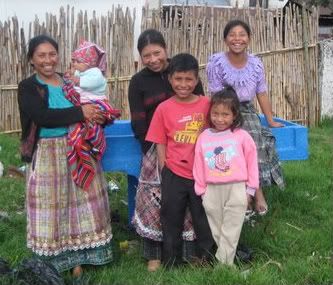 Reading her blog was partially what inspired me to have my own. And it certainly is what I strive for mine to achieve. What I love about Tricia's blog is its heart and candor. She celebrates the beauty, wonder, and fun of life, and she is always striving to do good.

Tricia started her blog in July 2006, so she could document her journey towards adopting her Guatemalan daughter, Sofia. Her blog caught on fast, and before she knew it, she had a large readership and a collection of "strangerfriends," as she calls them - "incredible people" she has met along the way.

What does she try to achieve? "My blog is cheap therapy for myself," she says. "Plus it was/is a simple and effective way to keep my friends and family scattered throughout the US and Canada informed and up-to-date on our family in Virginia. I also try to utilize my blog to spread the word about international and domestic adoption, Guatemala, orphans, and opportunities to help others in need."

Tricia's latest project is throwing a Christmas party for an orphanage in San Andres, Guatemala. The children at this institution are unadoptable because they do not have a relative who could sign the adoption papers. Therefore, they must stay in the orphanage until they are 16 years old and released into society.
"I became aware of the orphanage in San Andres through mutual friends of the director," Tricia recounts. The children were not going to have any sort of Christmas celebration unless they received outside help. "I immediately knew that the orphanage's needs were great, but our ability to help was greater!"
As an events professional, she says, "I strive to be the ultimate party planner - both professionally and personally - and I think EVERYONE deserves a Christmas. Pretty simple."

Tricia announced the fundraising drive a week ago, and already, her blog readers have responded with over $1600 to make the Christmas party possible. Tricia will be documenting the party through her blog, so everyone who can't be there will be able to see all the details.

I asked Tricia what her dream party would be, and she said, "[It] would involve happy children surrounded by love and overwhelmed with happiness. Not to mention a moonbouce, petting zoo, face painting, games, streamers & balloons, pinatas, lots of food, gifts, candy, an appearance by Oprah because I love her, and shoes, clothes, medicine, art supplies & books for the orphanage."