When I was downloading photos from yesterday, I realized there were a whole stash of Michael's pictures from Guatemala that I never posted.
For those of you who are new to my blog, my husband, Michael, and I went down to Guatemala for a short trip this past April. You can read all about our experiences in
this recap
.
I didn't get a chance to write much about our final stop, Antigua. Our time there was a whirlwind of sight-seeing before we flew back home. However, we did get to relax and enjoy our last evening there.
Here are some photos of dusk into evening in Antigua that have me longing to go back.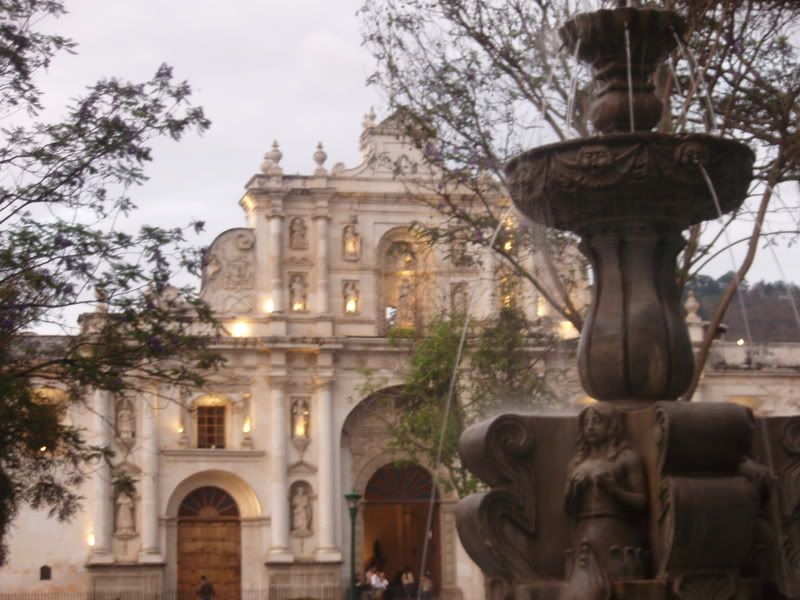 The Cathedral de Santiago on the central park
We were able to lay claim to a park bench and watch all the activity of that Sunday night as the sun was going down. The park is certainly the center of the town's social life. We saw families strolling, couples preening, and shoeshine boys looking hungrily for customers. Parishioners filed in and spilled out of the cathedral for evening Mass. As the sun set, the lights came on outside the cathedral, and we watched as they grew brighter in contrast to the darkening blue sky. You could sit here for hours and observe. Even the fountains were intriguing.
Of course, we still wanted to have dinner that evening, so as a special treat, we went to Casa Santo Domingo.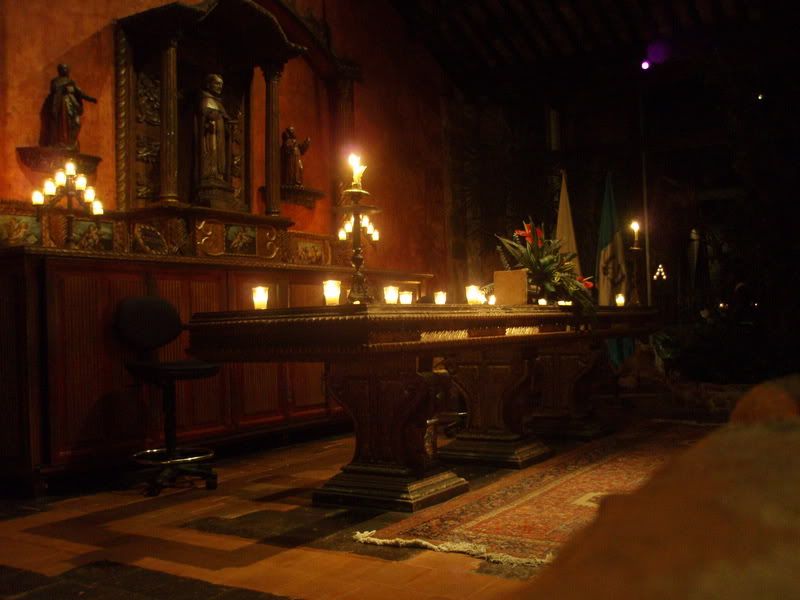 The concierge desk at Casa Santo Domingo

Imagine an ancient convent that has been transformed into a luxury hotel. Gregorian chant music is piped through stone walkways, and candles adorn every flat surface. There are fresh flowers and religious art as far as the eye can see. While the dining room has a roof, it is basically outdoors, and fire pits keep you warm. Endless secret nooks beckon you to explore their secrets. At Casa Santo Domingo, you are safe behind stone walls, but free to imagine all that has unfolded here over hundreds of years.
Michael and I had a delicious dinner, and we were left with the most seductive of memories. We have been to some exotic places -- especially during our honeymoon in Morocco -- but I dare say, this one took the cake.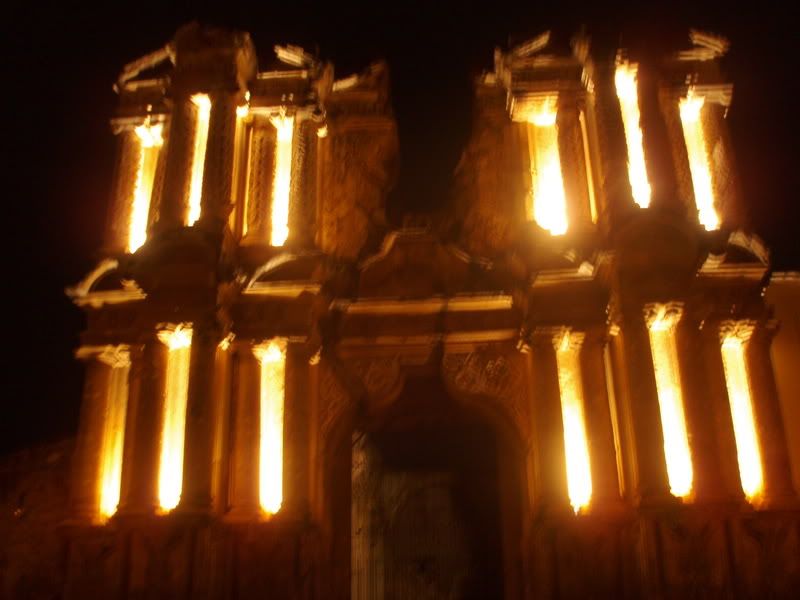 An illuminated Antigua church
We walked back to our hotel from Casa Santo Domingo and encountered some fabulous architecture that was even more enticing with the backdrop of night. The ruins of one church were brilliantly lit up, and we were drawn in like moths to the sight of the glowing religious structure. If I could, I still would be standing there now, gorging myself on the shapes of the arches and the way the light falls.
Ah, Antigua. We cannot wait to go back!